Various coins that have been created by TEC over the years that do not fit into any of the other categories.
JOIN TEC
This coin is used as a handout to recruit new members.  TEC Members were given some during the 2015 convention in Chicago.  TEC Members can request coins for their recruiting efforts.
Rolled on Cents
Designed by Cindy Calhoun
Engraved by John Edward Gusmano
Rollers Ed & Cindy Calhoun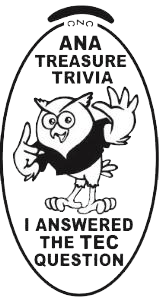 ANA TREASURE TRIVIA
This coin is given to children participating in the ANA Treasure Trivia who come to the TEC Booth and answer the elongated coin question during the ANA Convention.
Rolled on Cents
Designed by Cindy Calhoun
Engraved by John Edward Gusmano
Rollers Ed & Cindy Calhoun
2005 Seasonal Series